What is the statute of limitations in NJ for domestic violence?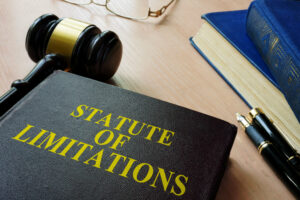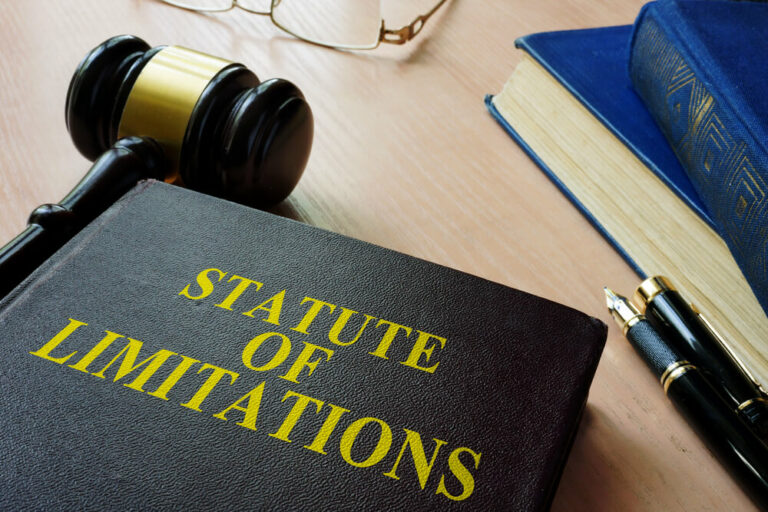 Ordinarily, a victim files their complaint soon after the act constituting domestic violence and often seeks a restraining order against the alleged perpetrator. If they wait, they only have five years to file their complaint under N.J.S.A. 2C:1-6, which outlines New Jersey's statute of limitations on domestic violence and other criminal offenses. The law sets forth the various time limits for filing actions for adults and minors and distinguishes which offenses have no time limits for prosecution. For those crimes not specified as prosecutable at any time, the state must prosecute a crime within five years after the commission of the crime and one year after a disorderly or petty disorderly persons offense. Other crimes have seven-year statutes of limitations.
Understanding Statutes of Limitations
When you suffer an injury due to someone's negligent driving, you may file a lawsuit seeking financial compensation for your injuries. However, you must file your case by a specific date or lose your claim for damages. That time to file your claim is called a statute of limitations, a legal deadline for filing claims. Statutes of limitations are more common in civil actions, but some criminal acts are also subject to statutes of limitations in New Jersey.
Criminal Statutes of Limitations in New Jersey
Under New Jersey law, some crimes do not have a statute of limitations. For example, homicide or sexual assault have no statute of limitations. And yet, some crimes and disorderly persons offenses have deadlines for legal prosecution. A criminal prosecution generally begins when the state seeks an indictment against someone. Cases in which the defendant must be indicted before a trial can occur include Superior Court indictable crimes such as aggravated assault and terroristic threats. For disorderly persons offenses such as simple assault or petty disorderly persons offenses such as harassment, a warrant typically begins the prosecution or another action on the part of the state. The statute of limitations for most indictable crimes is five years; these are felonies in other states. The statute of limitations is one year for disorderly persons offenses, which are handled in Municipal Court. The reason for statutes of limitations is to protect evidence from going stale or disappearing in time.
Further, the statute establishes that committing a crime occurs when an offender's actions fit all elements of the crime or a course of conduct or collaboration (for co-conspirators) completes or ends. The time runs the day after someone commits an offense or the state has physical and fingerprint or DNA evidence identifying an alleged perpetrator. The statute also determines the start of prosecution as an indictment for indictable crimes and warrants or other processes for non-indictable crimes, unless the warrant or process is unreasonably delayed. And the statute does not bar reducing offenses so long as the state timely prosecutes the original offense.
Domestic violence, which may be either a criminal or civil matter in New Jersey, has a five-year statute of limitations. The law bars actions beyond the legal cutoff date unless the accused flees or is otherwise unavailable to prosecute (N.J.S.A. 2C:1-6 (f). In that case, the statute of limitations tolls, which means the cutoff date is suspended until something happens to restart it again. So, in the case of an underage crime victim, the statute of limitations tolls until the minor turns 18. Then, they have five years from turning 18 or two years after discovering the offense, whichever is later, to prosecute the offender (N.J.S.A. 2C:1-6(b)(4). Thus, a 30-year-old in psychotherapy who suddenly remembers a sexual molestation as a child has two years from the date of discovery to file a complaint against the alleged offender. The statute also tolls when an accused has another pending action in the state for the same conduct.
Rights of Victims to File Domestic Violence Complaints within the Time Limitations in NJ
A victim of domestic violence may file a civil or criminal complaint against a current or former intimate partner, date, household or family member, or other qualifying individual who committed an act constituting domestic violence under the Domestic Violence Act of 1991. Typically, the police respond to a domestic violence disturbance and arrest an individual who committed a predicate act of domestic violence, including assault, false imprisonment, harassment, lewdness, and other actions. Alternatively, a victim files a domestic violence complaint against someone who allegedly committed domestic violence against them.
Timeliness is Critical for Prosecution
Timeliness is critical in prosecuting crimes as evidence deteriorates and memories fade, complicating many cases that rely on witness and victim testimony. Victim and witness testimony are primary evidence judges rely on in adjudicating domestic violence cases and issuing restraining orders. So, when a victim hesitates to bring charges, the delay may be helpful for the accused. The more time passes between the crime commission and its prosecution, the better for the defendant. The case becomes more unreliable as witness memories fade.
The Fallibility of Memory for Prosecuting Crimes
A memory study published in the National Library of Medicine titled "The fallibility of memory in judicial processes: Lessons from the past and their modern consequences" cites several legal cases where memory was crucial in prosecuting criminal suspects. In analyzing cases involving "children as eyewitnesses, historic sexual abuse, and eyewitness misidentification," the review concludes that memory is fallible. In time, witnesses forget or misremember details of what occurred, replacing them with "memory illusions," or false memories, arising from their imagination or at the suggestion of others. Children are especially susceptible to the power of suggestion. In other words, unreliable testimony is more likely in cases with child witnesses and lengthy time gaps between events and prosecution.
How can the Age of the Crime Help with your Defense?
Armed with reputable research, domestic violence defense attorneys may challenge alleged victim testimony as unreliable. The plaintiff in a domestic violence action must prove the defendant's history of violence or criminal behavior constituting domestic violence, recounting what occurred during specific events. A skilled attorney can cross-examine a witness on the reliability of their memory, especially if there are discrepancies between earlier accounts of what happened during a violent incident. And when a long time has elapsed between the alleged criminal behavior and the prosecution of the crime, a talented lawyer may effectively discredit a witness or victim's testimony.
Handle a Domestic Violence Complaint in NJ with Solid Legal Representation
Since judges often grant protective orders to restrain domestic violence defendants from contacting the plaintiff, you should get an experienced New Jersey domestic violence defense attorney to help you fight the issuance of a final restraining order. A restraining order prevents you from contacting the victim and anyone else named as a protected person in the FRO. It also prohibits you from possessing or owning a gun. It may also come with steep financial obligations or keep you from freely contacting or seeing your children. And if you violate the restraining order by texting or emailing the alleged victim, threatening them, showing up at their workplace or their home, you could face jail time. Moreover, the order can last long, if not forever, without you successfully obtaining an order to vacate it, placing you at higher risk of violating the law.
Talk to an experienced attorney at The Tormey Law Firm LLC. to discuss your rights as a domestic violence defendant and how we can help protect them. For more information, contact our offices anytime for a free initial consultation at (908)-336-5008.