Forfeiture of Weapons in NJ Restraining Order Cases
NJ Restraining Order Lawyers with offices in Hackensack, Morristown, Newark NJ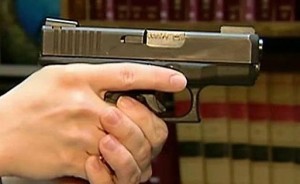 If you or a loved one is a facing a permanent restraining order in NJ, the Tormey Law Firm can help. Our experienced restraining order defense lawyers have literally handled hundreds of restraining order cases in almost every county in the State of NJ with great results including in Clifton, Wayne, Passaic City, and Little Falls. It is imperative that you protect your rights and avoid this black mark on your permanent record.
In fact, one of the attorneys at the firm, John Graves, used to work for the firearms forfeiture unit in the Morris County Prosecutor's office. Now, he represents our clients who are fighting a weapons forfeiture proceeding in New Jersey.
Here is a review from one of the many satisfied restraining order clients of the Tormey Law Firm:
"My brother had actually consulted and hired Mr Travis Tormey in regards to a TRO against him. Things got a bit more complicated whereas I needed to contact the law office several times and spoke with Joanne, who was extremely helpful, patient and totally understanding. When I had to speak to Travis I would text him and he would communicate with me in a timely fashion considering he was busy in court or had to wait to hear from his partners, who were also involved in the case. Overall the professionalism and expertise in their field was exceptional. In court they defended my brother with such compassion and dedication to their client. At the conclusion, case was dismissed thanks to both Travis and Tom. They demonstrated their strong capabilities and passion that I feel merit them a five star review. I would definitely recommend this law firm to anyone in need of legal advice or defense."
Contact our offices anytime for immediate assistance at 201-556-1570. The initial consultation is always provided free of charge.
Mandatory Weapons Forfeiture in NJ Restraining Order Cases
If a temporary restraining order (TRO) has been filed against you, you are not allowed to possess firearms according to NJ law. As a result, you must turn over all firearms to law enforcement once you have been served with the restraining order. Now, if the temporary restraining order (TRO) becomes a permanent or final restraining order (FRO), then you are prohibited from possessing firearms permanently (or until the FRO is vacated or dismissed in the future). However, if the temporary restraining order (TRO) is dismissed (either voluntarily or after a trial in court), it does not mean that you automatically get your firearms returned to you. The county prosecutor's office may still attempt to have your firearms forfeited. As a result, it is imperative that you contact an experienced restraining order lawyer not only to make sure the TRO is dismissed but also to fight for your rights to possess firearms and deal with the State of NJ on that issue.
Weapons Forfeiture in NJ: Hudson County Restraining Order Defense Lawyers
For additional information, contact our restraining order lawyers for a free initial consultation at 201-556-1570.