Non-Disclosure Agreements to Keep Domestic Violence Private in NJ: Understanding the Application of Confidentiality in NJ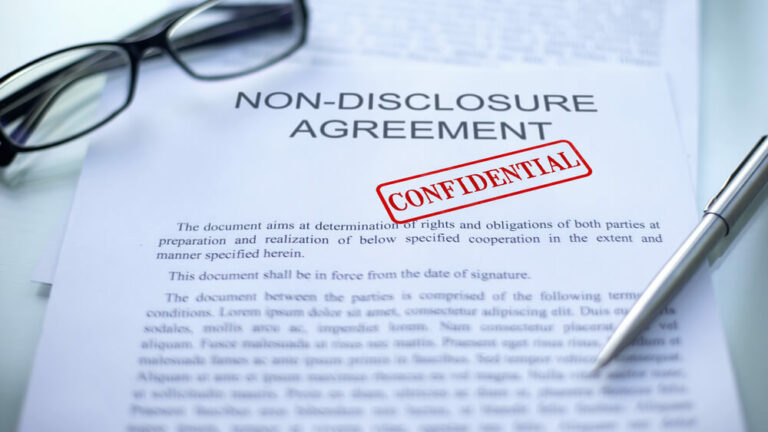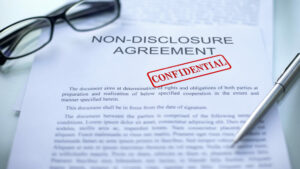 A restraining order is a sensitive, highly personal issue that you may want to keep private. But can you prevent the alleged victim from talking about a domestic violence or restraining order case if they are the other person involved? First, let's discuss what a non-disclosure agreement is and its purpose in family law and other matters. With that basic understanding, we can delve into the unique issues of victim protection versus defendant's wishes for confidentiality in domestic violence cases, and key insights about non-disclosure agreements when a temporary or permanent restraining order has been placed into effect in New Jersey.
What a Non-Disclosure Agreement (NDA) Is and What it Does
A non-disclosure agreement is a contract between two or more parties in which they agree not to disclose confidential information to third parties. Contract law typically broadly protects the rights of individuals to enter into contracts. However, in the case of keeping a restraining order confidential, unique issues arise.
Unique Issues with NDAs in Domestic Violence Matters
An individual who seeks a restraining order against another party is typically fearful of their safety and believes the person may harm them. Of course, it can be damaging to an individual's reputation for the public to know that someone has a restraining order against them and if that information could be protected by a non-disclosure agreement between the parties, such a contract would be advantageous to the individual against whom the restraining order is issued.
On the other hand, circumstances that give rise to one party seeking a restraining order against the other do not typically foster the environment of trust and agreement needed to create and enter into an NDA. Furthermore, as a matter of public policy, lawmakers generally do not want to encourage victims of domestic violence or other individuals seeking restraining orders out of fear for their safety to be silenced by NDAs or coerced into signing one, particularly when there is a history of abuse or a power disparity between the parties.
Seeking Confidentiality about a Restraining Order Case in New Jersey
There are other ways that a party could, in theory, seek to keep information about a pending case confidential including a gag order from the court and sealing certain court records. However, in the context of restraining orders and allegations of domestic violence, none of these options are likely. Instead, the best option for an individual accused of abuse or harassment, or who is facing a potential restraining order is to defend themselves by discrediting the witnesses and evidence proffered against them.
Sealing Records of Restraining Orders: Is it Possible?
A related issue to signing a non-disclosure agreement is whether a record of a restraining order can be sealed, so that the public cannot access the information. This question received a lot of media attention in the fall of 2021 when Sean Parnell, a Republican candidate for the U.S. Senate race in Pennsylvania, requested that the judge in his pending divorce and child custody case seal the records of his wife's two previous restraining orders against him.
The judge refused to seal records of the restraining orders, even though they both lasted for only a short time, were issued before the couple had a hearing, and his wife presented no evidence in support of her requests. Nevertheless, the judge refused to seal the records, although he did keep records regarding assessments and evaluations concerning mental health of the children and the spouses sealed. Conversely, even though Parnell argued that the restraining orders were baseless and the allegations were fabricated, he could not keep those allegations from becoming public information. Instead, he could point to the fact that his wife withdrew the first request on her own and the judge decided against making the second request permanent.
While this decision is not controlling in New Jersey cases, it does present some insight into how a judge in New Jersey may address a case involving similar facts. Records like the assessments and evaluations relating to the children and couple's mental health were likely deemed more sensitive and private in nature. Particularly, any information regarding children is much more likely to remain confidential in order to protect the child. These issues are separate and apart from domestic violence and restraining order cases, which present unique challenges and enhanced efforts to protect the alleged victim.
What is the difference between a non-disclosure agreement and a gag order in NJ Family Court?
An NDA is a signed, written agreement between two or more parties to not disclose information to outside parties, whereas a gag order is a judicial order that is issued by the court to prevent the parties involved from speaking publicly or disclosing to third parties certain details or information about the case. An NDA requires the parties' agreement and signature to bind them, but a gag order does not.
Key Insights about Non-Disclosure Agreements in the Realm of New Jersey Restraining Orders
In the context of a restraining order in New Jersey, non-disclosure agreements would be immaterial unless the order was also sealed by the court because once a restraining order is issued, it becomes a matter of public record. Furthermore, victims of crimes cannot be prevented from disclosing crimes committed against them. The facts surrounding an incident or multiple incidents giving rise to a restraining order will often involve some form of threat or domestic violence. It would be difficult to imagine a scenario where a court would issue a restraining order to protect a victim, but order the record to be sealed and issue a gag order preventing the parties from talking about the restraining order.
That being said, the names and addresses of victims or alleged victims of domestic violence may be excluded from the public record to protect the safety and welfare of the victim. Likewise, domestic violence offense reports and related information are kept confidential, except for the alleged victim, the alleged offender, and their respective attorneys.
In addition, once a final restraining order has been issued, the person subject to the restraining order becomes documented in the Domestic Violence Registry, which can impact many seemingly unrelated aspects of one's life. For instance, if you were seeking a gun permit in New Jersey, traveling, or hoping to obtain a governmental position. The best way to respond to the threat of a final restraining order is to obtain experienced defense counsel right away.
You Can't Prevent a TRO in New Jersey, or the Alleged Victim from Talking about Domestic Violence, but You can Disprove the Reasons for a Restraining Order in the First Place – Call Us
While restraining orders are much easier to obtain than a criminal conviction, as the burden of proof favors the alleged victim, they are allegations of wrongdoing that can damage your reputation, inconvenience your life, and, if you violate an order, result in a criminal charge for contempt of court. The key to effectively defending against a request for a restraining order before it becomes final is challenging the credibility of any witnesses and evidence submitted to support the claims. When representing clients in these matters, our goal is to demonstrate that the claims are unsubstantiated by the evidence, or even fabricated. We also frequently demonstrate to the judge in court that the critical elements for an FRO have not be met, such as a history of domestic violence between the parties.
If you are facing a restraining order in New Jersey, contact our team of skilled and experienced New Jersey restraining order lawyers for a complimentary consultation about your case today. You can always contact us online or call (908)-336-5008 for legal guidance and to speak to an attorney free of charge.
Additional Information: