Can you file a restraining order on someone else's behalf in NJ?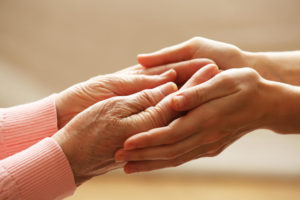 If you are a victim of stalking, harassment, assault, or other abuse or threatened abuse in New Jersey, you may get a Temporary Restraining Order (TRO) from the court, and potentially, a Final Restraining Order (FRO). In certain situations, New Jersey law also allows you to get a restraining order for someone else if they are incapable of getting one due to temporary or permanent incapacitation, or if the police or prosecution file a criminal complaint and corresponding TRO to protect a specific person.
Typical Restraining Order Case in New Jersey
The victim of a crime committed by their spouse or someone they are dating, living with (presently or formerly) or have children with, may seek a protective order in accordance with the Prevention of Domestic Violence Act of 1991, (N.J.S.A. 2C:25-17 et seq.). So long as they are victims of any of the crimes recognized as "predicate acts of domestic violence," such as stalking, harassment, assault, kidnapping, terroristic threats, or another crime causing serious bodily injury or risk of bodily injury, a victim may file for a TRO in the Superior Court in the county where they live or where the alleged abuse occurred. Alternatively, a domestic violence victim may go to the local police station for assistance. TRO's often arise in divorce proceedings and may involve other family law issues like child custody disputes.
A restraining order protects the victim and anyone else named in the order from the abuser's contacting, harassing, stalking, assaulting, battering, destroying property or otherwise interacting with the victim. It forbids the restrained person named in the order, the defendant, from contacting or coming near the victim, the plaintiff, or persons associated with the plaintiff, such as children, parents, or other household members, called protected parties. A restraining order restricts the defendant from coming within a certain distance of the protected parties. Contact includes physical, telephone, email, mail and text.
How does One Get a Restraining Order in NJ?
To get a TRO, the victim goes to court or the nearest police station and files an application for Temporary Restraining Order. The victim may request criminal charges be filed too, which prompts further action in both the New Jersey civil and criminal justice systems. If urgent, the applicant may file ex parte (emergency basis), often with the assistance of the police if the police were called to the crime scene or the victim went to the police station. The victim then sees the judge and testifies under oath to the facts supporting the TRO. If the victim cannot physically appear in court or if they are physically or mentally incapacitated, a judge can issue a TRO solely based on the sworn complaint.
A judge grants the order if it appears the plaintiff's life, health, safety and well-being are endangered. If granted, the order is served on the defendant and delivered to the law enforcement agency where the domestic violence occurred. The order lasts until a final restraining order (FRO) replaces the temporary, if ordered at the FRO hearing 10 days later. In cases where a final restraining order is issued at the FRO hearing, it becomes permanent unless otherwise dissolved or removed. Under New Jersey statute section N.J.S.A. 2C:25-30, a restraining order violation is punishable by prison and fines, the length of which depends on the violating conduct. A second violation guarantees minimally 30 days in jail .
New Jersey Restraining Orders for Elderly and Disabled Persons
Beyond the typical criteria for domestic violence victims who can file for a TRO on their own behalf, a parent or guardian may file a complaint and TRO on behalf of a minor victim or developmentally disabled, mentally defective or mentally incapacitated adult in New Jersey. New Jersey Statutes Section 2C:12-10.2, which protects minor or disabled stalking victims, defines disabled as developmentally or mentally disabled, diseased or defective, and thus, incapable of understanding their circumstances and conduct of the defendant. The disease or defect may be temporary or permanent. Mental incapacitation includes temporary drug-induced or otherwise mentally or physically altered states inflicted on the victim—without their knowledge or consent–that rendered the person unable to understand or control their conduct.
Abused elderly or disabled persons in New Jersey can get a restraining order following the same process as in a normal domestic violence action. According to N.J.S.A. 2C:24-8, criminal charges may be filed against the abuser for endangerment or neglect to discharge legal responsibilities of care of an elderly or disabled person if the person is 60 years or over, disabled physically, mentally, psychologically or emotionally, and the charged individual does not provide the necessary care or allow anyone else to.
When Police or Prosecutors Obtain a Restraining Order for a Victim in NJ
The New Jersey Division of Criminal Justice Guidelines on Police Procedures in Domestic Violence Cases states that an officer must arrest a suspect for committing or threatening to commit an act of domestic violence, take them into custody, and sign a criminal complaint if there is probable cause (reasonable grounds) to do so. Probable cause exists if the victim is injured or if both parties are injured and the officer determines from the circumstances, records and history of the parties, that one or both should be arrested. However, reasonable self-defense against an attacker will not result in arrest.
Violation of an existing restraining order or using a weapon to commit domestic violence likewise evidences probable cause to arrest someone. The officer has discretion to arrest and file a criminal complaint for a domestic violence offense even without signs of visible injury, violation of an existing restraining order, or weapons, if probable cause exists that an arrest is warranted. If no probable cause and the victim does not want to file a complaint, then the officer must still advise the victim of their rights in a Victim Notification Form.
Within 12 hours of arrest, the officer must bring the criminal complaint before a judge and request a restraining order forbidding the defendant from contacting, threatening, stalking or otherwise harassing the plaintiff or from possessing weapons, even if the victim does not want a restraining order. Removal of weapons for domestic violence is explained further via the link provided. The officer may also request that the defendant's bail or release be conditioned upon a no-contact order. Additionally, the prosecutor may proceed with the criminal complaint and accompanying restraining order, even when the victim does not want to testify, based on the police report and despite the victim's non-participation.
When an elderly or disabled person suffers domestic violence, the police may also file a TRO and criminal complaint against the abuser following the same procedure and under the same conditions as domestic violence victims. Even if the offender's actions do not rise to domestic violence, an officer may nevertheless file criminal charges of Endangering the Welfare of the Elderly or Disabled in violation of N.J.S.A. 2C:24-8.
Get More Information about Filing a Restraining Order for a Domestic Violence Victim in NJ
New Jersey law, police, and the court system provide an integrated system to protect abuse victims through restraining orders filed by victims themselves or if applicable, on their behalves. If you are seeking a restraining order for another person or someone has filed a TRO on your behalf, it is vitally important that you consult an experienced New Jersey Restraining Order Attorney who can thoroughly protect and advocate for you. Our lawyers have been successfully providing representation in domestic violence and restraining order matters for years and we can assist you 24/7 at (908)-336-5008. You can also contact us via our online form to request a free, confidential consultation. We maintain local offices in five separate counties in order to assist clients across the state. Call now to talk to a lawyer about your case or arrange an appointment for a restraining order consultation in Bergen County, Morris County, Essex County, Middlesex County, Monmouth County, or another county in New Jersey.