Witnesses and other forms of proof supporting or denying domestic violence allegations, are crucial to plaintiffs and defendants in FRO trials in New Jersey.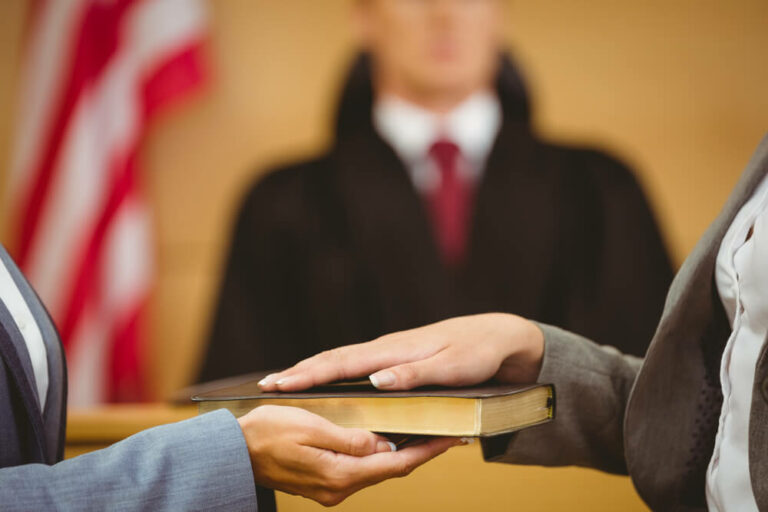 Domestic violence restraining orders protect victims, whether the abuse comes from a spouse, ex-spouse, date, partner, house member, or parent of the victim's child. To obtain an order of protection, a domestic violence victim petitions the court for protection first by a temporary restraining order (TRO), followed by a final restraining order (FRO) ten days later. A judge typically grants a TRO on evidence of the victim's TRO abuse allegations and the need for protection. Most often, the defendant is not present in court. However, a family judge grants a FRO at a hearing with both parties in attendance. At the hearing, both parties may bring evidence to prove their allegations. Since domestic violence typically occurs behind closed doors, witnesses may be compelling evidence to a judge in deciding whether to grant an FRO.
Determining Admissibility of Witness Testimony at a Domestic Violence Trial
Not all evidence is acceptable. A judge only admits relevant evidence under the Rules of Evidence, meaning evidence that tends to prove or disprove facts alleged in the case. So, for example, threatening voicemail, text, and email messages from the defendant may be relevant to prove harassment, a crime constituting domestic violence. But eyewitnesses to the perpetrator's violence or the victim's state of mind may be relevant to prove violence occurred or that the victim feared for their life.
Similarly, not all witness testimony is admissible, meaning relevant and weighty for the judge's consideration in deciding whether an FRO is necessary. Evidentiary rules bar privileged information and hearsay statements.
Refusal to Testify by Asserting Privilege
Thus, a defendant who wishes to disprove the victim's allegations of injury may subpoena the plaintiff's doctor to testify. However, the physician can assert the doctor-patient privilege. Like the attorney-client or spousal communications privilege, the doctor-patient privilege allows a doctor to refuse to reveal confidential information between patient and doctor without contempt of court. Unless the patient consents, the physician may assert the privilege and not answer questions regarding privileged information.
How do You Know if Something is Hearsay?
Hearsay is also inadmissible into evidence. Hearsay is a witness's out-of-court statement that they did not make, offered in court to prove an asserted matter is factual. A judge will not allow a witness to testify to what someone else said to prove the plaintiff or defendant did, said, or felt something. However, the person who made the statement that establishes a fact may testify in court to what they said. So, a person who witnessed the defendant's brother threaten the victim by stating, "He'll make you pay if you call the police," may not testify to that statement to prove the defendant is violent or threatened the victim with violence. Only the brother may testify that he made that statement.
What is Allowed under the Party Opponent Exception?
Unless the out-of-court statement falls under one of the exceptions to the hearsay exclusion, the statement is inadmissible as evidence. Hearsay exceptions include comments by a party opponent. Thus, had the defendant stated to the plaintiff, "I'll make you pay if you call the police," the plaintiff could testify to that statement to prove the defendant threatened them under the party opponent hearsay exception. And an opponent's written comments via text, email, or social media are likewise admissible under the exception. A defendant may likewise use the plaintiff's statements to disprove fear of the defendant.
What is an Excited Utterance?
Other exceptions exist under N.J.R.E. 801 as present sense impression, excited utterance, and then-existing mental, emotional, or physical condition. To be admissible in court, something could be an excited utterance, a statement reacting to a "startling event or condition" just after or during the experience that caused the reaction. For example, an excited utterance can occur after the startling event or condition when recounting the episode. Such statements are spontaneous and made while in the throes of shock, fear, or some other extreme emotion where there is little time to fabricate the expressed emotion.
What is a Present Sense Impression?
A present sense impression is a statement describing or explaining a condition or event while it happens or shortly afterward, as a reflection of the speaker's sense impression. In other words, these exceptions are more trustworthy because of the immediacy of the situation or intensity of the reaction to a significant event. Thus, when a witness testifies that they saw the plaintiff running out their front door shaking and crying, "He's going to kill me!" the witness may testify to how the declarant experienced that outburst while it was happening. The witness may repeat the plaintiff's statement as one of the hearsay exceptions. The declaration could express the plaintiff's emotions and state of mind after a terrifying event.
Whether the plaintiff or defendant calls a witness to the stand to testify on their behalf, the witness may not be able to testify freely without objection by the other party's attorney.
Who can Testify as a Witness during a Domestic Violence Trial in NJ?
Witnesses that a plaintiff may want to call to prove that they suffered violence and are in danger are police officers or family members who witnessed the assault, threats, harassment, or injuries resulting from it. For example, a police officer may testify to what they witnessed at the scene when called to respond to a domestic violence call. They may state that they saw the plaintiff scratched, bleeding, and frightened, while the defendant was angry and aggressive.
A neighbor or family member also may testify to what they heard, the screaming, banging, maybe the accused grabbing the plaintiff and throwing them to the ground in front of the house during an incident or to past incidents. Or a friend who the plaintiff went to following a violent or harassing incident may testify to the plaintiff's physical and emotional condition. And if a child witnessed the events, they may testify, though their competence may be at issue when the child is young. A judge may hear a child's testimony outside of court without the parties present for the child's safety.
The defendant may present witnesses who saw what occurred during an incident to refute the plaintiff's side of the story, showing the plaintiff was the aggressor and instigator and caused their injuries. They may bring close friends of the parties who testify about the lack of discord, disputing the plaintiff's assertion that they fear the defendant. Both parties may bring witnesses to support their case and convince a judge of their side of the story.
Cross-Examination of Witnesses at a Final Restraining Order Hearing
Both parties' witnesses can expect cross-examination by the other party or their attorney. The point of cross-examination is to bring a witness's credibility into evidence. For example, a biased witness's testimony may not be as credible or weighty as one who is disinterested, such as a police officer or neighbor who is not friends with either party. A witness is credible if they were present and saw an incident or incidents first hand instead of at a distance or had no precise details about what occurred. A witness is not effective when they merely testify that the defendant is a good person and would never do anything to harm anyone, as character evidence is not typically admissible. Character evidence does not prove whether an accused did or did not act as alleged during a specific incident.
Credible witness testimony may convince a judge that an FRO is or is not necessary. As such, an experienced domestic violence attorney can provide invaluable service to either of the parties at an FRO hearing in New Jersey. The attorney typically asks the questions of the witnesses for their client and cross-examines the opponent's witnesses. This role is essential in revealing the witness's strengths and weaknesses.
Enlist an Accomplished Domestic Violence Lawyer in New Jersey to Handle Witnesses in Your Case
With thousands of domestic violence trials in our lengthy careers, the lawyers on our team understand, identify, and know the specific questions to ask to elicit support for our clients and we use proven tactics and skills to damage the credibility of the other party's witnesses. We also know how to rehabilitate witnesses when the opposing attorney cross-examines our client's witnesses. We meticulously comb through the facts and evidence in your case, listen to your side of the situation, and craft a tailor-made strategy to litigate the case before the judge. If you need to prove or disprove allegations of domestic violence in NJ, enlist help from our experienced domestic violence attorneys. When it comes to your FRO trial, we can be a powerful asset to your case. Call 908-336-5008 for a confidential consultation free of costs today.