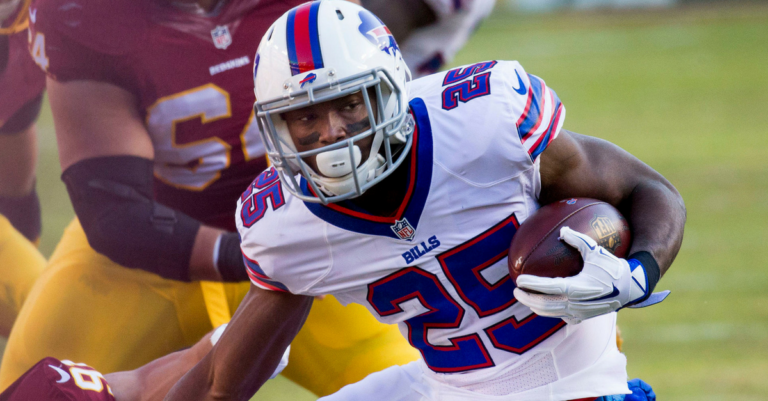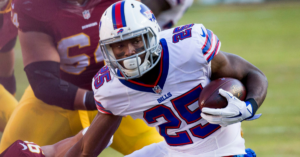 Domestic violence allegations can happen to anyone, including the rich and famous. In a shocking social media post that included a horrific photo, former Eagles running back LeSean McCoy was accused of domestic violence, steroid abuse and animal cruelty on Tuesday, July 10, 2018.
Mr. McCoy denied the allegations in a social media post. Nevertheless, Mr. McCoy was accused of beating his girlfriend, his young son, and abusing a dog. He was also accused of using performance enhancing drugs — all by a woman claiming to be a close friend of McCoy's girlfriend in an Instagram post. More specifically, the post claimed that McCoy beat his dog "into kidney failure," and had to be stopped from "viciously beating" his son. The post also accused McCoy of using "steroids and needles" and stated "the world needs to know what type of animal you really are."
McCoy spent six seasons with the Eagles and made three Pro Bowls before he was traded to the Bills in 2015. He's made three straight Pro Bowls in Buffalo as one of the league's top running backs. McCoy has a checkered off-field history since he was drafted by the Eagles in 2009. In 2013 — when he was still with the Eagles — McCoy allegedly shoved a woman off a party bus on a trip to New York. As part of a lawsuit, according to TMZ, the woman claimed that McCoy and/or his security guard hit her in the face, restrained her and poured a beverage onto her hair, clothes and body before forcibly ejecting her from the bus onto the side of the New Jersey turnpike. In 2016 — while with the Bills — McCoy was sued by two Philadelphia police officers for his alleged involvement in a bar fight involving those two officers, who were off-duty.
In New Jersey, an individual cannot be charged with the crime of domestic violence. There is no specific crime labeled "domestic violence" in the New Jersey Criminal Code; however, there are numerous criminal offenses that are considered predicate acts of domestic violence. Instances of domestic violence are deemed civil matters and are addressed by the family court. What generally occurs when there is a claim of domestic violence, a restraining order is sought by the alleged victim and the family court holds a hearing to decide whether one should be granted. In order for a restraining order to be entered against a person, the court must make two findings. It must first find that a predicate act of domestic violence occurred such as an assault, sexual assault, terroristic threat, stalking, or harassment. The Court must also find that there is a need for protection. That the alleged offender is going to continue to harm, threaten, or harass the victim.
Also, please note, a criminal charge can follow from an alleged incident of domestic violence. But the suspect is not officially charged with domestic violence. Rather, they are charged with an act of assault, stalking, harassment, or some other charge codified in our criminal code. Moreover, because the circumstances surrounding the charge center on domestic violence, that may be used as an aggravating factor to increase a sentence or prohibit a person from entering a diversionary program to avoid prosecution. For instance, at the municipal level, a person charged with a disorderly person offense such as simple assault, may avoid prosecution by being accepted into the conditional dismissal program. However, if the simple assault charge surrounds domestic violence, he or she may not be considered for the program. Further, at the Superior Court level, a defendant may avoid prosecution by being placed into the Pre-Trial Intervention Program. Normally, a person does not have to plead guilty to be accepted into the program. Nevertheless, if the underlying charges concern domestic violence, he or she must first plead guilty in order to enter the program.
Facing Domestic Violence Allegations in New Jersey?
If you are facing a restraining order or criminal charges in New Jersey, please contact our office for assistance. We can be reached anytime at (908)-336-5008 and consultations are provided free of charge. With offices located throughout New Jersey, we are available to schedule an appointment to meet with you in the local nearest you. Our practice spans Bergen County, Morris County, Hudson County, Monmouth County, Camden County, and everywhere in between. Call today for more information about how our experienced New Jersey domestic violence lawyers can help you.
To read more about this specific case, access the following article: With horrific bloody photo, LeSean McCoy accused of domestic violence, PEDs, animal abuse | McCoy: 'Totally baseless'