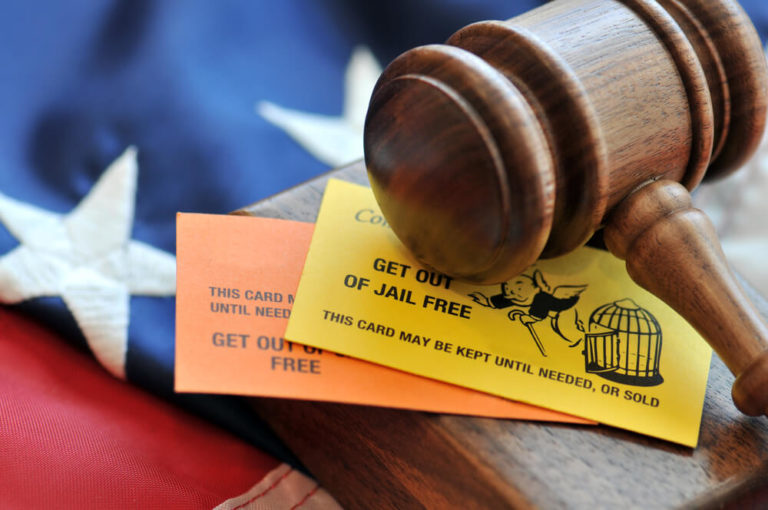 To understand the impact of an order of protection, it is important to understand that it is exactly what its name implies. Essentially, it is a Court order that restrains, or restricts, one party from another. A violation of a restraining order is classified as contempt.  Despite a restraining order being a civil matter, the act of contempt is a violation of the New Jersey Criminal Code. Usually, a contempt violation of a restraining order is classified as a disorderly persons offense. However, the offense can be elevated to a fourth degree crime when there is a criminal offense involved.  Thus, it can be a crime under the Prevention of Domestic Violence Act to violate a temporary or final restraining order.  Generally, a defendant is charged with a fourth degree crime when he or she knowingly violates a protective order when it is based on a criminal offense, such as harassment.
As per N.J.S.A. 2C:25-30, all contempt proceedings conducted pursuant to N.J.S.A. 2C:29-9 involving domestic violence orders, other than those constituting indictable offenses, shall be heard by the Family Part of the Chancery Division of the Superior Court. For subsequent contempt charges, a defendant is required to serve a mandatory jail sentence.
Usually there are additional underlying offenses associated with contempt in domestic violence matters.  For example, if you are found guilty violating a temporary or final restraining order and also committing an act of domestic violence, such as stalking or other offenses, then you will be charged concurrently. Hence, you may sustain even more time behind bars.
What other special rules apply for cases involving protection orders? Sometimes if you have committed a certain type of crime, the condition of bail, or release from jail, may be for a restraining order or a no contact order to be issued in order to protect a victim of domestic violence.
Arrested for Breaching a Protection Order in New Jersey, Can I get out of Jail?
New Jersey implemented a process that substituted a conventional monetary bail system to a system focused on pretrial monitoring or detention until case resolution.  With that being said, if you violate a restraining order or are arrested for a domestic violence related crime, you are subject to possibly being detained in jail until your case is resolved, even if it is a disorderly persons offense.
How does this work? When an individual is arrested, he or she will have a first appearance before a Judge in the Superior Court in the venue in which the defendant is being held.  A prosecutor can file a motion seeking detention of a defendant for indictable offenses or a disorderly persons offense involving domestic violence.
Subsequently, a defendant will receive a public safety assessment, otherwise known as a PSA.  A PSA is an algorithmic-based assessment that utilizes particular factors to evaluate the risk of someone failing to appear at a future court date and the risk of new criminal activity.  This system evaluates the risk the individual poses by looking at his or her age, whether the offense is a current violent offense, if the individual has a pending charge at the time of the current offense, prior convictions such as disorderly persons, indictable, or violent crimes, failure to appear pretrial in past 2 years or more than 2 years ago, and a prior sentence to incarceration of 14 days or more.  Then, the relevant responses will generate the defendant's risk assessment to the community and/or the victim on the scale of one through five, one being lowest risk and five being the highest risk.
Why is this pertinent?  The PSA gives an unbiased determination based on the above factors to predict a defendant's risk to the community.  For example, between a prosecutor arguing for detention and the defense arguing for release, giving the judge the ability to also look at a reliable indicator can aid in his or her decision.
What happens if I am found in contempt of a protection order in another State and relocated to New Jersey without addressing the out-of-state violation?  If you have an active charge in another state and you fail to appear, a warrant will be likely issued for your arrest.  If you are stopped and pulled over in the State of New Jersey with an active warrant, then you will be arrested in this State and potentially extradited to the State with the active warrant.  If you act contrary to New Jersey's laws and have an active out-state warrant, you are dealing with more than just extradition, so it is important to speak with an attorney immediately to make sure your rights are secured.
How can an attorney help me?
Hiring an experienced attorney will most certainly help you understand the penalties at hand when facing an order of protection violation. Particularly, you will need someone to help safeguard your freedom and liberties if facing incarceration during a detention hearing and the overall disposal of your case.  It is important to have someone advocate for you and understand the total underlying circumstances surrounding your situation.
In addition, conviction for certain crimes relating to domestic violence can take away your ability to maintain certain rights, like the right to bear arms.  For example, if you attempt to purchase a firearm when explicitly barred by law, you may be charged with a certain persons offense.  A certain persons offense may be considered a crime of the second or third degree when coupled with an act of domestic violence. Ultimately, seeking help from an experienced attorney is vital to ensure that you're best positioned to get out of jail and avoid the serious repercussions you face when accused of breaching an order of protection in New Jersey. Contact The Tormey Law Firm today to discuss your case. You can call (908)-336-5008 anytime for a free consultation.