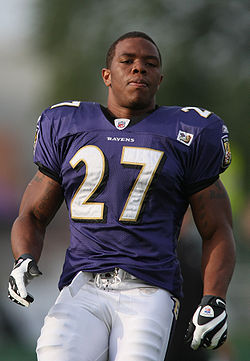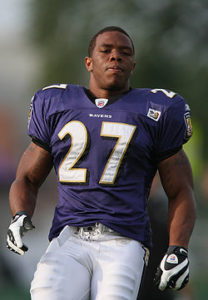 Ray Rice, a former Pro Bowl NFL running back and Rutgers alumnus, will be part of the NFL's annual social responsibility presentation to players and staff. This is a presentation that focuses on domestic violence.
Rice was suspended from the NFL in 2014 after an alarming video surfaced. The video showed Rice punching his fiancé (now his wife) in the face during an argument inside an Atlantic City casino elevator. Now, as part of his rehabilitation process, Rice will be a lead speaker against domestic violence at the NFL's annual presentation to players and employees. In his presentation, Rice is expected to share his experiences with domestic violence.
Rice told ESPN that he and the NFL front office have been "building relationships…and it's a mutual thing. The NFL has a great platform, they reach a lot of people. It's part of our responsibility to reach out for not the on-field opportunity but off-field, too." In his first official work with the NFL since being suspended, Rice taped a two-to-three-minute segment that is part of a one-hour-long video to be distributed to NFL teams in May. Rice explained, "I just think there's so much more to learn from my situation…I had a clean slate and it all came down to a terrible split-second decision. I want these guys to learn from it. I want them to be better for it. I want them to be better men. I'm fortunate enough to be in contact with the league and I'm thankful for the opportunity to tell it."
Rice's tale is an unfortunately common one, as domestic violence remains a prevalent problem in our society. In New Jersey, there are a number of services available for the victims of domestic violence, as well as for perpetrators of domestic violence. In fact, many of the domestic violence service providers offer anger management and batterer's intervention to aggressors in domestic violence situations.
First and foremost, if you or a loved one is the victim of domestic violence in New Jersey, you can call the confidential New Jersey Domestic Violence Hotline at 1-800-572-SAFE (7233) or visit the website for the New Jersey Coalition to End Domestic Violence.
Additionally, the domestic violence lawyers at the Tormey Law Firm are available to discuss whether you have standing to apply for a restraining order in New Jersey, what it takes to get a temporary restraining order (TRO) in New Jersey, and how to prepare for a final restraining order (FRO) trial. No matter the domestic violence situation you may be facing, you can count on the Tormey Law Firm to help with navigating the Family Court system and to assist you with obtaining a restraining order in New Jersey.