Fort Lee Restraining Order Lawyers
Defending Clients Accused of Domestic Violence in Bergen County NJ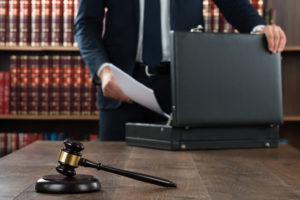 Have you been arrested and charged with domestic violence in Fort Lee? Do you need a lawyer for a restraining order case? We are here for you. The New Jersey Prevention of Domestic Violence Act is an invaluable tool for victims of domestic violence to obtain a level of protection from their abusers. It also serves to ensure that victims have some legal recourse in the event that the abusing party doesn't stay away when that's what the Court orders. Unfortunately, the law also makes it very easy for someone to obtain a temporary restraining order against another person, even if there is absolutely no basis for the issuance of a final restraining order following a trial before a Superior Court judge.
Even if there is no basis for a final restraining order, the issuance of a temporary restraining order in Fort Lee can have serious repercussions for the person it is issued against. These can include problems with employment, housing, and the withholding of certain constitutional rights such as the right to own firearms. Additionally, a false allegation of domestic abuse requires the accused person to hire an attorney to fight for them in order to ensure that the truth comes out in Bergen County Family Court. This can be expensive and time consuming, but is highly advisable if you are seeking the best outcome in your case.
If you have questions about a domestic violence restraining order matter in Fort Lee, we encourage you to contact our local lawyers at (908)-336-5008 for a free consultation. We are here to advise you of your rights and discuss your available options.
Resolving a Fort Lee Restraining Order Case in Bergen County, New Jersey
In a recent case handled by the Tormey Law Firm, our client's roommate issued a temporary restraining order against our client, accusing him of harassment. As it turned out, our client had been paying rent to the roommate for months, but it turned out that she had not been paying anything to the landlord. As the accusing roommate was the only person on the lease, she was the only one who knew that the landlord had filed eviction proceedings against her at the Superior Court. When our client learned that the roommate had not been paying the rent and that they were all being evicted from the apartment, he rightfully demanded that she repay him the rent he had given her and the security deposit he had given when he first moved in. Rather than pay the money back and have everyone go their separate ways, the roommate obtained a temporary restraining order against our client, thinking that it would keep her from having to pay the money back. She was not the victim of domestic violence, but was using the restraining order as a sword to hurt our client and as leverage in the lease issue that they were having with the landlord.
One of our skilled trial attorneys appeared with our client in court. Through careful negotiations, he was able to negotiate an agreement between the parties that included dismissal of the temporary restraining order against our client, repayment to him of the money stolen by the roommate, and financial penalties should the roommate violate the terms of the agreement or attempt to contact our client again. In exchange, she was able to avoid the filing of criminal charges against her for Theft by Deception, a third-degree criminal offense.
We had the option of filing felony theft charges against her in Fort Lee which would have been handled by the Bergen County Prosecutor's office at the Superior Court in Hackensack. Had we done so, she would have been facing a third degree crime punishable by 3-5 years in prison, fines, probation, and a permanent felony charge on her record. Rather than do that, we used this leverage to negotiate a dismissal of the restraining order and a favorable settlement agreement for our client.
Need a Lawyer for a Restraining Order from Fort Lee NJ? Call Us Now
Through thoughtful preparation and discussions with the other party, we were able to obtain this terrific result for our client. If you are faced with a similar situation in Fort Lee or surrounding communities in Bergen County, we may be able to help. Call The Tormey Law Firm anytime at (908)-336-5008 for a free consultation.